Cracking the Customer Service Code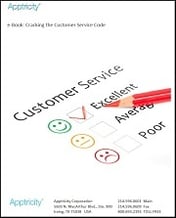 Customer experience research indicates that the way you handle your customer can place between 8% and 12% of your annual profits at risk. Introducing technology to enable your responsiveness to your customer can improve your profitability through retention and increased sales. This e-book highlights the role that technology plays in improving customer service and protecting your brand by discussing the following topics:
the role of mobile data in customer service
four key data streams that impact customer service
the link between customer satisfaction, employee satisfaction, and profit
how to drive customer satisfaction from the inside

Your ability to seamlessly serve your customers and respond to their changing needs will drive profit right to your bottom line. Simply complete the form to download Cracking the Customer Service Code.
Complete the form to read this complimentary e-Book!